Recently, sitrak tanker developed by sinotruk was successfully rolled off the production line.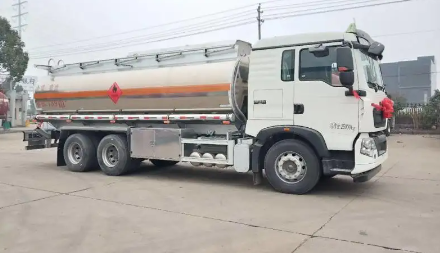 The vehicle adopts sitrak C5H 8×4 drive chassis, equipped with man d08340 horsepower, engine, ZF9 gear transmission, disc brake front axle, man13 ton double rear axle, eight airbag suspension, Pirelli vacuum tire and Alcoa rim.The whole vehicle also adopts the relevant routing and configuration complying with ADR (European Agreement on road transport of dangerous goods) standards, and is equipped with China National Heavy duty truck fleet management system;
The tank body is made of lightweight and high-strength aluminum alloy( 5454 Aluminium Alloy ) . The transportation medium is gasoline. The tank body is 9 meters long and the effective volume is 30 cubic meters.